Link:
Firefighters from all over Western Pennsylvania congregated at the Cathedral of Learning Sunday to participate in the city's first fire climb commemorating the First Responders of 9/11.
Climb organizer Sam Huey was crucial to bringing the event to the Cathedral and reached out to the Chancellor's Office for approval after contacting the National Fallen Firefighters Foundation to sponsor the challenge at Pitt.
"The National Fallen Firefighters Foundation was sponsoring a series of [climbs] nationwide. I volunteered down there for the National Memorial Weekend, but I went here," Huey said. "I contacted the Chancellor's Office, and they put it through to the council and the in-house attorneys, and they said yes within a week; they approved it right away."
The firefighters were charged with climbing the Cathedral stairs to the 22nd floor five times, symbolizing the 110 flights of the World Trade Center Towers. Mayor Luke Ravenstahl was there to participate.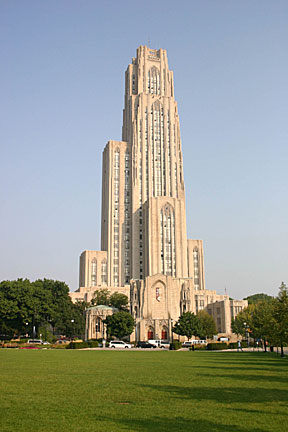 "The symbolic climbing of the stairs is important. When you consider that day, so many First Responders went into that building knowing they would never come out. It's an awesome sacrifice and one thousands of people made," Ravenstahl said. "We are going to run up those stairs today knowing that we are going to come out, and as we do it, we'll remember what the morning was like and make sure that we never forget."
An Honor Guard lead the opening procession as bagpipes played in the background. The Pledge of Allegiance was recited followed by an opening prayer. Later, the pipes played Amazing Grace, and the Mayor gave his remarks.
"We remember the lives that so many gave that day, whether they were firefighters, paramedics, police officers, or even ordinary citizens from New York or across the country, Washington D.C., [and] of course, closer to home, Shanksville, Pennsylvania," said the mayor. ""It is tragic, and it is painful, but we must remember. We must appreciate and thank those First Responders who gave so much…on that horrific, horrific day. It was a day that changed America, and we will never forget the sacrifices that so many made."
It was clear that firefighters participating in the climb were honored to do so. Almost every firefighter at the event said those five letters – honor -- at least once. The 25 registered participants came from all over Western,PA -- some as far as Wesleyville, Stancliff and Kuhl. Ryan Rutkowski, a member of Stancliff Hose, echoed those sentiments.
"I feel good honoring them the right way. I've got the wings of angels helping me up the stairs," Rutkowski said. "It's important because we are honoring the firefighters for the sacrifices they made, but we are also honoring the civilians that died, not just in New York, but in Pennsylvania and D.C. as well."
Pittsburgh's Fire Chief Darryl Jones was also on hand at the event. Chief Jones relayed how rare it is for firefighters to fight a fire in a high-rise, conveying the challenges they had to face.
"It's a time for us to pay homage to those who sacrificed and gave the ultimate sacrifice ten years ago today. Very seldom do you get the chance to fight fire above your head in such a unique situation as a high-rise, and being the highest rise of them all, the World Trade Center, is awesome in itself, but the situation was devastating," Chief Jones said. "This right here is a simulation of what these men and women had to go through in New York during 9/11."
Pittsburgh Bureau of Fire Lieutenant and Pitt Alum Steven Jones said 9/11 brought things to light, making clear how his firefighters, and all of the First Responders, need to be ready at a moment's notice.
"It just keeps it in perspective that someday, whenever the alarm rings, you never know what the call is going to be, so you just have to be prepared for it," Lt. Jones said. "
As the firefighters prepared to enter the building, the respectable crowd at the Cathedral began to clap in encouragement. About a half an hour later, a sweaty Ravenstahl emerged. The mayor reflected on how difficult a job the firefighters of 9/11 must have had with all of their equipment and the chaos around them.
"It was great; it was good. I didn't have the gear on like everybody else, so it was a little bit easier for me," Ravenstahl said. "We went 22 floors, and they were talking on the way up, and one of the firefighters the day of September 11 made it up to 75 or something like that. And to think that he was able to get that high is pretty incredible, and it's definitely not easy to do, but those guys are dedicated folks."
Ravenstahl warned that we all need to be prepared and championed the First Responders for the individual and team effort they put in each-and-every day.
"You never know when September 11 is going to come again. You never know when that fire is going to break out; when you're going to have to run into a dark alley not knowing what you're going to encounter," Ravenstahl said. "That's what they face every day. So we remember it today in a special way and a specific way, but we also need to recognize that these men and women do this on a daily basis for us."