Link:
TPN: Pride Week celebrates Pittsburgh's LGBT community
Pittsburgh Pride kicked off its annual Pride Week celebration on Friday with its second advocacy rally on city council's steps. The rally, which drew a crowd of over a hundred people, featured speakers such as U.S. Representative Mike Doyle, legendary activist Harvey Milk's nephew Stuart Milk, and Zack Wahls of YouTube fame. The rally was used to ignite the celebration of this year's Pittsburgh Pride Week.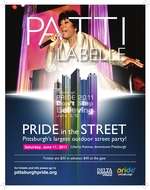 Pride Week, which began in 1970, is a celebration produced by the Delta Foundation of Pittsburgh. Delta's mission is "to i
ncrease awareness and understanding of and improve the quality of life for the Lesbian, Gay, Bisexual, and Transgender (LGBT) community in Western Pennsylvania."
The event, which runs from June 3-12, offers many opportunities for the region's LGBT population to celebrate who they are. Along with the rally, there is a pool party in Mt. Washington on Thursday and the always popular Pub Crawl on Friday. The week concludes with Pride in the Streets,
Pittsburgh's largest outdoor street party featuring acclaimed R&B singer-songwriter Patti Labelle, on Saturday, and Sunday's Pride Awareness March on Liberty Ave.
More importantly, however, is the event's use to promote LGBT activism. LGBT resident's across the region, including many students at Pitt, are continuing to battle for equal rights to marry, equal rights in the workplace, and other civil rights issues plaguing the LGBT community.
Luckily for Pitt LGBT students, Pittsburgh was ranked the fifth gayest city in America according to Advocate.com. Pitt student Cody Dickerson believes policies put in place at Pitt encourage this statistic.
"It adds something to being a gay Pitt student. Pitt has pretty clear policies and pretty good policies, and Pittsburgh is one of the cities in PA that has sexual orientation protection, so it's not something I ever have to be concerned about," Dickerson said.
The same cannot be said for all students. When asked the same thing, University of Missouri student Caleb Washburn stated, "You have a lot of rural kids that come into Missouri with very different opinions. There isn't really an out atmosphere."
But that doesn't mean the fight for equal rights is over in Pittsburgh. For that to be a reality, you need strong representation…representation Pittsburgh has.
U.S. Representative Mike Doyle, who represents Pittsburgh in D.C., attended the rally.
"I have the privilege to represent Pittsburgh in the United States Congress, and I am a strong supporter of LGTB rights," said Doyle. "We need social equality as well as legal equality…we need to repeal the so called Defense of Marriage Act!"
Rep. Doyle is an original co-sponsor for the Respect of Marriage Act, which would repeal DOMA.
"Let's celebrate today, and let's redouble our efforts tomorrow and the days and weeks and months after that to keep pushing for marriage equality, workplace equality, and equality in our Armed Forces," Doyle said.
However, many politicians in PA do not agree with Rep. Doyle. The most recent efforts to ban same-sex marriage were made by state senator John Eichelberger, who reintroduced a bill that would amend Pennsylvania's Constitution to ban gay marriage. Eichelberger called homosexual relationships "dysfunctional."
"There is no reason to encourage that type of behavior in Pennsylvania… That's my whole point. We don't have any reason to change the way we do business here. There is no evidence that this will be good for society," Eichelberger said.
Eichelberger's bill to amend the state constitution failed in 2010.
Newly elected U.S. Senator Pat Toomey has also voted to ban gay marriage, and newly elected governor of PA Tom Corbett "supports the Pennsylvania Marriage Amendment Act, which defines marriage as that between a man and a woman."
Pitt's Rainbow Alliance President Tricia Dougherty is convinced that the amendment is "blatantly unconstitutional" but is happy President Obama isn't supporting DOMA in court.
"It is great that President Obama is taking steps towards repealing it, but at the same time there are powerful people in Washington defending it, and the situation reminds me of just how much work we still have to do to achieve equality in this country," said Dougherty.
This doesn't deter Pitt's Rainbow Alliance Community Outreach officer Max Garber. Max said that these politicians represent "the lowest, worst elements of PA politics that you can dredge up." Max described Toomey as an "a**hat" that is "wrong on just about everything."
He believes that events like Pride Week will help the community understand what exactly it is they are fighting for.
"When you gather and demonstrate in a group, it lets people know that there are a lot of us; there are many of us, and we aren't necessarily what you thought of us. There might be some of the things that people complain about, but they deserve to be recognized too," Garber said.
A full listing of Pittsburgh Pride Week's events can be found at www.pittsburghpride.org.