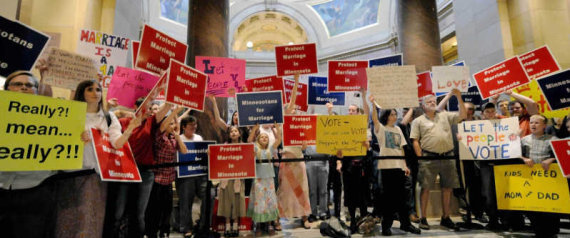 Link:
The heavily Republican Minnesota House voted to approve a proposed constitutional amendment to ban gay marriage.
Here are some quotes from members of the Minnesota State Legislature:
Rep Karen Clark on wanting her father to see her marry:

"Please don't make me go off to Iowa. I was raised in Minnesota. I'm a child of Minnesota."
Rep John Kriesel describing how losing his legs in Iraq began a personal transformation of his views on the issue:
"I'm pleading with you to vote no; I'm begging you."
Rep Tim Kelly of Red Wing:
"an assault on personal freedom and choice." and a "giant step backward."
Governor Mark Dayton, though he has no power to block the question from the ballet, stated that he would fight the proposed amendment and called it "un-Minnesotan."
Check out some of these testimonies from both parties before the vote:
Rep John Kriesel
Rep Steve Simon
I cannot wrap my head around why this is still an issue. If you have the time, please check out Rachel Maddow's segment on the issue below and the interview she had with the parents of deceased gay soldier killed in Afghanistan.